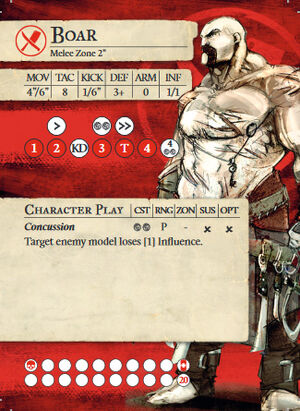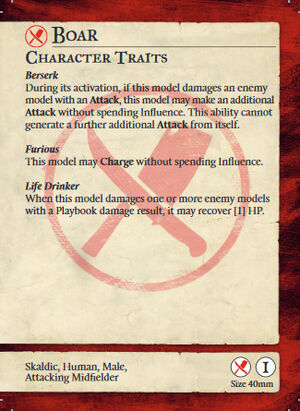 Boar lives for the thrill of spilling blood, and finds ample opportunity to practice this with the Butcher's Guild. He will not stop until the opposing team have been violently maimed, or worse…
---
CHARACTER PLAYS Edit
Concussion (2 GB) || P Range
Target enemy model loses [1] Influence.
Edit
CHARACTER TRAITS Edit
Berserk
During its activation, if this model damages an enemy model with an Attack, this model may make an additional Attack without spending Influence. This ability cannot generate a further additional Attack from itself. Edit
Furious
This model may Charge without spending Influence. Edit
Life Drinker
When this model damages one or more enemy models with a Playbook damage result, it may recover [1] HP.
Edit