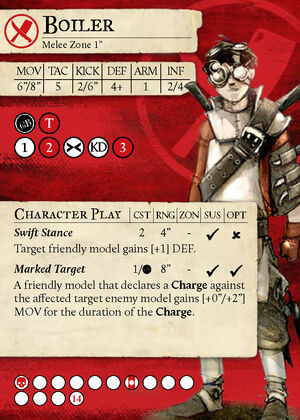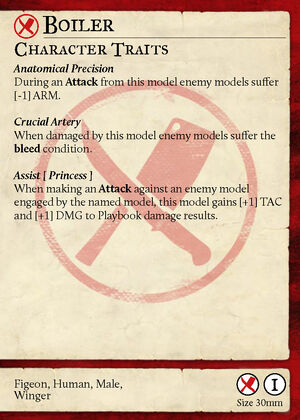 Beginning his career as a lowly apprentice, Boiler has quickly proven himself a worthy addition to the Butcher's squad. Whilst only a young lad, his capacity for bloodshed is only exceeded by the most prolific of murderers.
---
CHARACTER PLAYS Edit
Swift Stance (2) || 4" Range || Sustaining
Target friendly model gains [+1] DEF.
Edit
Marked Target (1 / 1 GB) || 8" Range || Sustaining || OPT
A friendly model that declares a Charge against the affected target enemy model gains [+0"/+2"] MOV for the duration of the Charge. Edit
CHARACTER TRAITS Edit
Anatomical Precision
During an Attack from this model, enemy models suffer [-1] ARM. Edit
Crucial Artery
When damaged by this model enemy models suffer the bleed condition. Edit
Assist [Princess]
When making an Attack against an enemy model engaged by the friendly named model, this model gains [+1] TAC and [+1] DMG to Playbook damage results. Edit