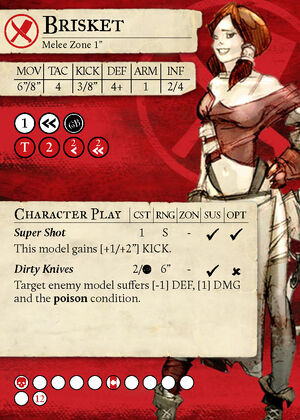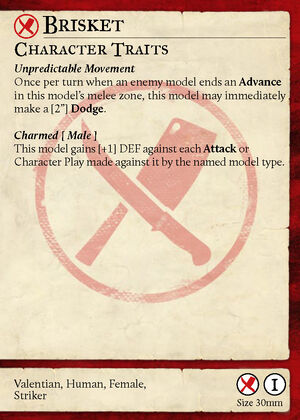 Brisket is considered one of the most desirable players in the sport due to her exceptional talent and good looks. Many a rookie player has come to regret thinking her an easy target for this, as she is well protected by the rest of the team, and more than capable of looking after herself.
---
CHARACTER PLAYS Edit
Super Shot (1) || S Range || Sustaining || OPT
This model gains [+1"/+2"] KICK.
Edit
Dirty Knives (2 / 1 GB) || 6" Range || Sustaining
Target enemy model suffers [-1] DEF, [1] DMG and the poison condition. Edit
CHARACTER TRAITS Edit
Unpredictable Movement
Once per turn when an enemy model ends an Advance in this model's melee zone, this model may immediately make a [2"] Dodge. Edit
Charmed [Male]
This model gains [+1] DEF against each Attack or Character Play made against it by the named model type. Edit