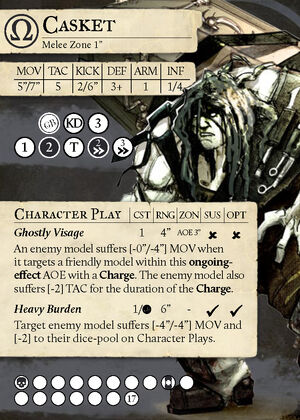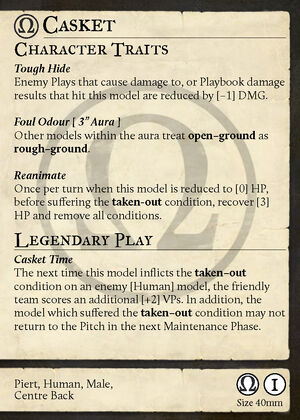 A huge, bedraggled man, Casket is a terrifying sight to behold. He shambles towards his targets, mumbling nonsense one minute, laughing manically the next, enough to disturb even the most seasoned of players. The coffin on his back is a hint of the hideous fate awaiting those who do not turn and run…
---
CHARACTER PLAYS Edit
Ghostly Visage (1) || 4" Range || AOE 3"
An enemy model suffers [-0"/-4"] MOV when it targets a friendly model within this ongoing-effect AOE with a Charge. The enemy model also suffers [-2] TAC for the duration of the Charge. Edit
Heavy Burden (1 / 1 Play) || 6" Range || Sustaining || OPT
Target enemy model suffers [-4"/-4"] MOV and [-2] to their dice-pool on Character Plays.
Edit
CHARACTER TRAITS Edit
Tough Hide
Enemy Plays that cause damage to, or Playbook damage results that hit this model are reduced by [-1] DMG.
Edit
Foul Odour [3" Aura]
Other models within the aura treat open-ground as rough-ground. Edit
Reanimate
Once per turn when this model is reduced to [0] HP, before suffering the taken-out condition, recover [3] HP and remove all conditions. Edit
LEGENDARY PLAY Edit
Casket Time
The next time this model inflicts the taken-out condition on an enemy [Human] model, the friendly team scores an additional [+2] VPs. In addition the model which suffered the taken-out condition may not return to the Pitch in the next Maintenance Phase. Edit