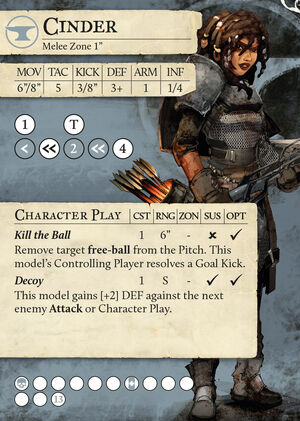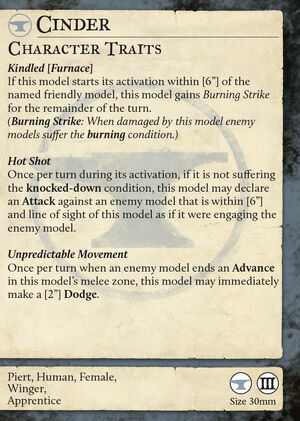 Cinder
Pre-Release : Gencon 2017
---
CHARACTER PLAYS Edit
Kill the Ball (1) || 6" Range || OPT
Remove target free-ball from the Pitch. This model's Controlling Player resolves a Goal Kick. Edit
Decoy (1) || Self Range || Sustaining || OPT
This model gains ]+2] DEF against the next enemy Attack or Character Play.
Edit
CHARACTER TRAITS Edit
Kinded [Furnace]
If this model starts its activation within [6"] of the named friendly model, this model gains Burning Strike for the remainder of the turn. Edit
(Burning Strike: When damaged by this model enemy models suffer the burning condition.) Edit
Hot Shot
Once per turn during its activation, if it is not suffering the knocked-down condition, this model may declare an Attack against an enemy model that is within [6"] and line of sight of this model as if it were engaging the enemy model.
Edit
Unpredictable Movement
Once per turn when an enemy model ends an Advance in this model's melee zone, this model may immediately make a [2"] Dodge. Edit
ARTICLES Edit
Blacksmith's Guild: Apprentice Cinder