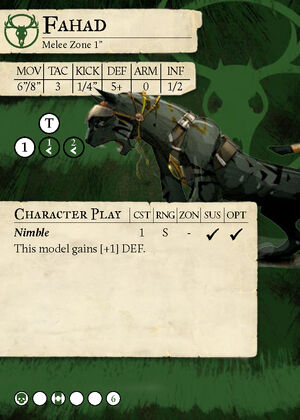 Fahad...
---
CHARACTER PLAYS Edit
Nimble (1) || Self Range || Sustaining || OPT
This model gains [+1] DEF.
Edit
CHARACTER TRAITS Edit
Linked [Zarola]
When this model's activation ends, the named friendly model may take its activation next if able to do so.
Edit
Furious
This model may Charge without spending Influence.
Edit
Isolated Target
This model gains [+1] DMG to Playbook damage results while targeting an enemy model suffering the snared condition. Edit