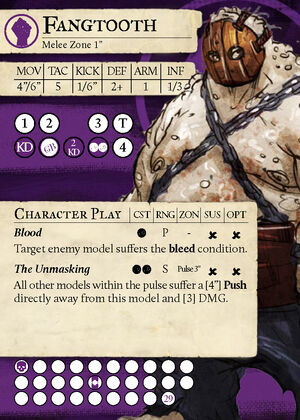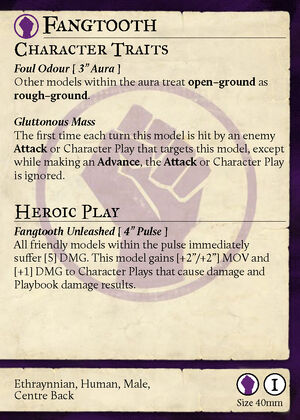 Nobody is quite sure if the ponderous hulk known as Fangtooth is man or monster. He is a hideous sight to behold, covered in pus-filled boils and pox scars, but this is nothing compared to his horrific stench which has people retching if they stray too close…
---
CHARACTER PLAYS Edit
Blood (1 GB) || P Range
Friendly model suffers the bleed condition. Edit
The Unmasking (2 GB) || Self Range || Pulse 3"
All other models within the pulse suffer a [4"] Push directly away from this model and [3] DMG. Edit
CHARACTER TRAITS Edit
Foul Odour [3" Aura]
Other models within the aura treat open-ground as rough-ground. Edit
Gluttonous Mass
The first time each turn this model is hit by an enemy Attack or Character Play that targets this model, except while making an Advance, the Attack or Character Play is ignored. Edit
HEROIC PLAY Edit
Fangtooth Unleashed [4" Pulse]
All friendly models within the pulse immediately suffer [5] DMG. This model gains [+2"/+2"] MOV and [+1] DMG to Character Plays that cause damage and Playbook damage results.
Edit