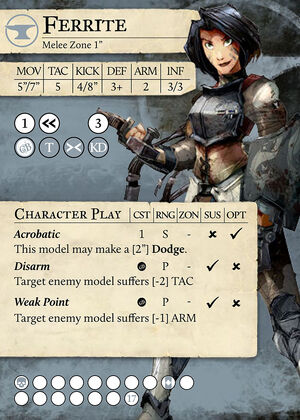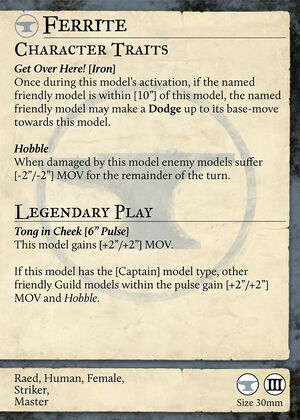 Ferrite
Pre-Release : Gencon 2017
---
CHARACTER PLAYS Edit
Acrobatic (1) || Self Range || OPT
This model may make a [2"] Dodge. Edit
Disarm (1GB) || P Range || Sustaining
Target enemy model suffers [-2] TAC
Edit
Weak Point (1GB) || P Range || Sustaining
Target enemy model suffers [-1] ARM.
Edit
CHARACTER TRAITS Edit
Get Over Here! [Iron]
Once during this model's activation, if the named friendly model is within [10"] of this model, the named friendly model may make a Dodge up to its base-move towards this model.
Edit
Hobble
When damaged by this model enemy models suffer [-2"/-2"]MOV for the remainder of the turn.
Edit
LEGENDARY PLAY Edit
Tong in Cheek [6" Pulse]
This model gains [+2"/+2"] MOV.
Edit
If this model has the [Captain] Model type, other friendly Guild models within the pulse gain [+2"/+2"] MOV and Hobble.
ARTICLES Edit