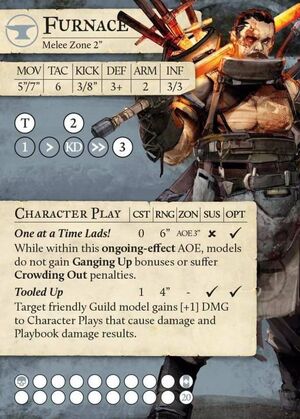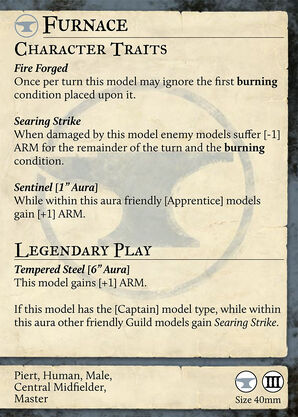 Furnace
Pre-Release : Gencon 2017
---
CHARACTER PLAYS Edit
One at a Time Lads (0) || 6" Range || AOE 3" || OPT
While within this ongoing-effect AOE, models do not gain Ganging Up bonuses or suffer Crowding Out penalties. Edit
Tooled Up (1) || 4" Range || Sustaining || OPT
Target friendly Guild model gains [+1] DMG to Character Plays that cause damage and Playbook damage results.
Edit
CHARACTER TRAITS Edit
Fire Forged
Once per turn this model may ignore the first burning condition placed upon it. Edit
Searing Strike
When damaged by this model enemy models suffer [-1] ARM for the remainder of the turn and the burning condition. Edit
Sentinel [1" Aura]
While within this aura friendly [Apprentice] models gain [+1] ARM.
Edit
LEGENDARY PLAY Edit
Tempered Steel [6" Aura]
This model gains [+1] ARM.
Edit
If this model has the [Captain] Model type, while within this aura other friendly Guild models gain Searing Strike.
ARTICLES Edit