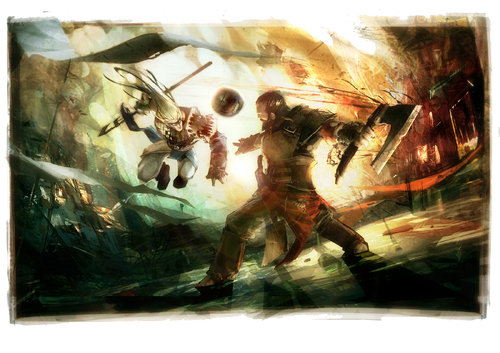 Welcome to the Guild Ball WikiaEdit
This wiki is a resource for the Guild Ball miniatures game published by Steamforged Games LTD (http://steamforged.com/), devoted to discussion of players, builds and strategies. Guild Ball is a medieval football game set in a pseudo-historical world. Developed by Mat Hart & Richard Loxam
Please note that this resource is a condensed version of the information provided from their website. I highly encourage you to visit the Steamforged website (http://steamforged.com/) for additional information and to purchase their products. We are fans of the game and support everything they have provided for us. If at any time they feel like this resource site is infringing on their rights / products I will gracefully remove it from Wikia. I hope you enjoy the information collected and the time we've put into making this a quick reference for all things Guild Ball. This is everyone's community so please feel free to post questions,comments, and update the wiki pages for updates and errors.
Thank you, and game on!
CAMPAIGN STORY EVENT Edit
Resources Edit
Organised Play Edit
Game Concepts Edit
IN DEVELOPMENT Edit
MAJOR LEAGUE GUILDS Edit
MINOR LEAGUE GUILDS Edit
Supplies & Accessories Edit
Online Links & Resources Edit
Official Edit
GENERAL MEDIAEdit
Which campaign are you most excited for?
Latest activity
Edit
Ad blocker interference detected!
Wikia is a free-to-use site that makes money from advertising. We have a modified experience for viewers using ad blockers

Wikia is not accessible if you've made further modifications. Remove the custom ad blocker rule(s) and the page will load as expected.