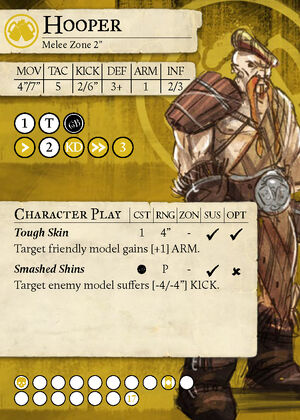 Hooper is the hard-core soldier of the Brewer's Guild, an unapologetically imposing and unrelenting man, who has never been known to back down from a fight in his entire life. With ambitions of becoming warlord of the guild, he never hesitates in leading a charge into the opposition.
---
CHARACTER PLAYS Edit
Tough Skin (1) || 4" Range || Sustaining || OPT
Target friendly model gains [+1] ARM.
Edit
Smashed Shins (1 GB) || P Range || Sustaining
Target enemy model suffers [-4/-4"] KICK.
Edit
CHARACTER TRAITS Edit
Tough Hide
Enemy Plays that cause damage to, or Playbook damage results that hit this model are reduced by [-1] DMG.
Edit
Shove the Boot In
This model gains [+1] DMG to Playbook damage results while targeting an enemy model that is suffering the knocked-down condition. Edit
HEROIC PLAY Edit
True Grit
Immediately remove all conditions from this model. This model gains [+2] TAC.
Edit