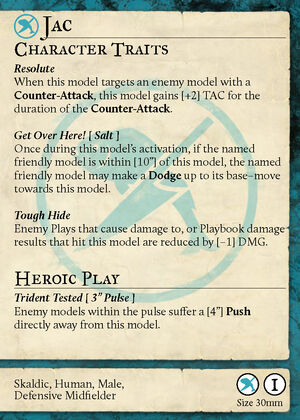 Jac is known as "The Brawler" by his team mates, regularly besting several opponents in the drunken fights he partakes in. His talents make him an ideal defensive player for the Fisherman's team – a tough old rock standing against the sea. 
---
CHARACTER PLAYS Edit
Ramming Speed (1) || Self Range || Sustaining || OPT
During an Advance made by this model, any enemy model whose base is touched by this model's base suffers a [2"] Push directly away from this model. A model can only be affected by this Character Play once per turn. Edit
Goad (1) || 6" Range || Sustaining || OPT
While this model is on the Pitch the target enemy model can only move directly towards this model during its Advance. Edit
CHARACTER TRAITS Edit
Resolute
When this model targets an enemy model with a Counter-Attack, this model gains [+2] TAC for the duration of the Counter-Attack. Edit
Get Over Here! [ Salt ]
Once during this model's activation, if the named friendly model is within [10"] of this model, the named friendly model may make a Dodge up to its base-move towards this model. Edit
Tough Hide
Enemy Plays that cause damage to, or Playbook damage results that hit this model are reduced by [-1] DMG.
Edit
HEROIC PLAY Edit
Trident Tested [3" Pulse]
Enemy models within the pulse suffer a [4"] Push directly away from this model. Edit