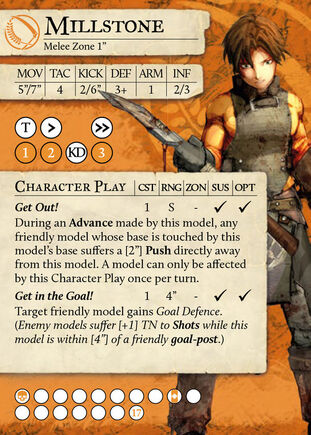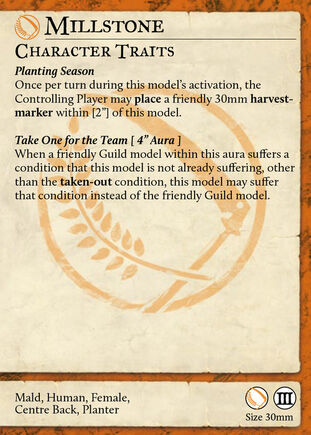 Millstone...
---
CHARACTER PLAYS Edit
Get Out! (1) || Self Range || Sustaining || OPT
During an Advance made by this model, any friendly model whose base is touched by this model's base suffers a [2"] Push directly away from this model. A model can only be affected by this Character Play once per turn. Edit
Get in the Goal! (1) || 4" Range || Sustaining || OPT
Target friendly model gains Goal Defense. (Enemy models suffer [+1] TN to Shots while this model is within [4"] of a friendly goal-post.) Edit
CHARACTER TRAITS Edit
Planting Season
Once per turn during this model's activation, the Controlling Player may place a friendly 30mm harvest-marker within [2"] of this model.
Edit
Take Once for the Team [4" Aura]
When a friendly Guild model within this aura suffers a condition that this model is not already suffering, other than the taken-out condition, this model may suffer that condition instead of the friendly Guild model. Edit