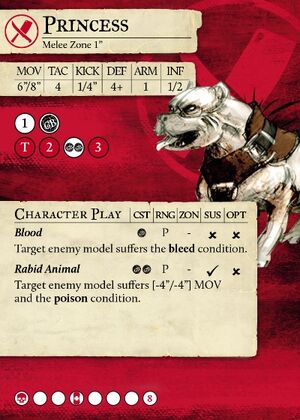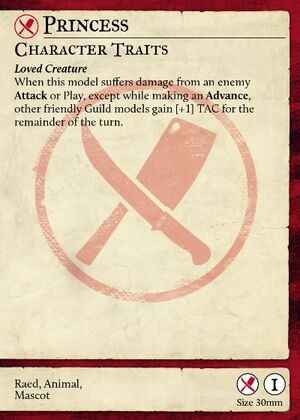 Princess is the unloved mutt the Butcher's call their mascot. Abandoned with the team by a player who didn't make the cut, she earns her place on the team by savaging anybody who comes near her.
---
CHARACTER PLAYS Edit
Blood (1 GB) P Range
Target enemy model suffers the bleed condition. Edit
Rabid Animal (2 GB) P Range || Sustaining
Target enemy model suffers [-4"/-4"] MOV and the poison condition. Edit
CHARACTER TRAITS Edit
Loved Creature
When this model suffers damage from an enemy Attack or Play, except while making an Advance, other friendly Guild models gain [+1] TAC for the remainder of the turn.
Edit