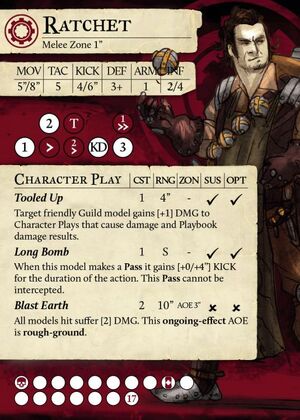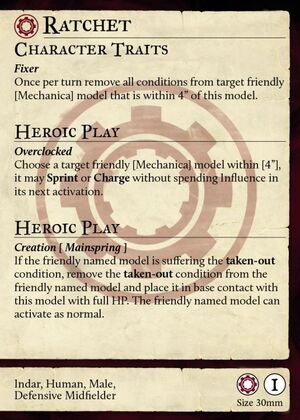 Considered somewhat of a maverick by other members of the guild, Ratchet is often the creative mind behind their latest inventions. He wields his explosive bombs at matches, and ensures the mechanical players remain fully operational through the bloodiest of games.
---
CHARACTER PLAYS Edit
Tooled Up (1) || 4" Range || Sustaining || OPT
Target friendly Guild model gains [+1] DMG to Character Plays that cause damage and Playbook damage results.
Edit
Long Bomb (1) || S Range || Sustaining || OPT
When this model makes a Pass it gains [+0/+4"] KICK for the duration of the action. This Pass cannot be intercepted. Edit
Blast Earth (2) || 10" Range || AOE 3"
All models hit suffer [2] DMG. This ongoing-effect AOE is rough-ground. Edit
CHARACTER TRAITS Edit
Fixer
Once per turn remove all conditions from target friendly [Mechanica] model that is within 4" of this model. Edit
HEROIC PLAY Edit
Overclocked
Choose a target friendly [Mechanica ] model within [4"], it may Sprint or Charge without spending Influence in its next activation.
Creation [Mainspring ]
If the friendly named model is suffering the taken-out condition, remove the taken-out condition from the friendly named model and place it in base contact with this model with full HP. The friendly named model can activate as normal. Edit
ARTICLES Edit