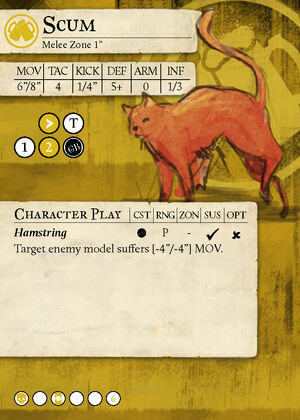 Nobody is quite sure why Scum is let on to the pitch. He doesn't do much, other than providing tactical advice to any players too inebriated to notice he's a cat.
---
CHARACTER PLAYS Edit
Hamstring (1 GB) || P Range || Sustaining
Target enemy model suffers [-4"/-4"] MOV.
Edit
CHARACTER TRAITS Edit
Shadow Like
At the start of this model's activation it may make a [2"] Dodge.
Edit
Unpredictable Movement
Once per turn, when an enemy model ends an Advance in this model's melee zone, this model may immediately make a [2"] Dodge.
Edit