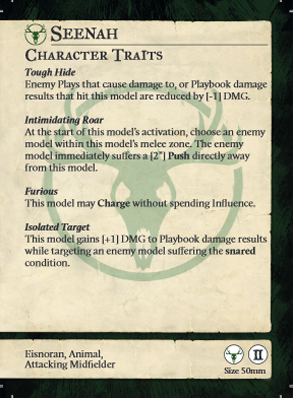 I'm a bear! Rar!
---
CHARACTER PLAYS Edit
Bear Hug (2 GB) P Range
Target enemy model suffers [4] DMG and suffers the bleed condition. If this model inflicts the taken-out condition using this Character Play, the friendly team gains an additional [1] VP. Edit
CHARACTER TRAITS Edit
Tough Hide
​Enemy plays that cause damage to, or Playbook damage results that hit this model are reduced by [-1] DMG.
Edit
Intimidating Roar
At the start of this model's activation, choose an enemy model within this model's melee zone. The enemy model immediately suffers a [2"] Push directly away from this model.
Edit
Furious
This model may Charge without spending Influence.
Edit
Isolated Target
This model gains [+1] DMG to Playbook damage results while targeting an enemy model suffering the snared condition. Edit