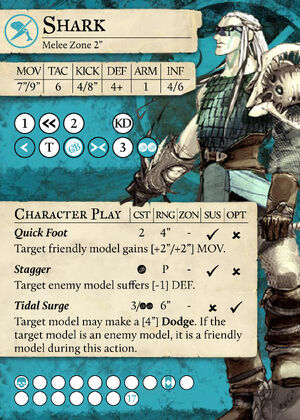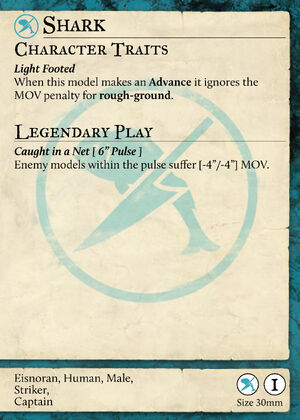 A loner by nature, Shark is adept at patiently hunting his prey, a calm and deadly predator. Whilst the latest captain of the Fisherman's Guild may feel isolated from his team, he is an exceptional footballer and one of the hottest talents in the game right now.
---
CHARACTER PLAYS Edit
Quick Foot (2) || 4" Range || Sustaining
Target friendly model gains [+2"/+2"] MOV.
Edit
Stagger  (1 GB) || P Range || Sustaining
Target enemy model suffers [-1] DEF.
Edit
Tidal Surge (3 / 2 GB) || 6" Range || OPT
Target model may make a [4"] Dodge. If the target model is an enemy model, it is a friendly model during this action. Edit
CHARACTER TRAITS Edit
Light Footed
When this model makes an Advance it ignores the MOV penalty for rough-ground. Edit
LEGENDARY PLAY Edit
Caught in a Net [6" Pulse]
Enemy models within the pulse suffer [-4"/-4"] MOV.
Edit