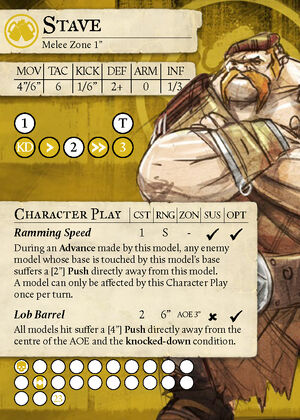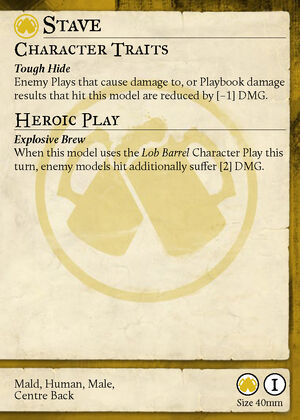 Stave is known as The Artillerist for a good reason. He is an expert at catapulting huge barrels of beer at the opposition, knocking them to the floor in a shower of shattered wood and explosive ale. His massive bulk make him a tough proposition to take down.
---
CHARACTER PLAYS Edit
Ramming Speed (1) || S Range || Sustaining || OPT
During an Advance made by this model, any enemy model whose base is touched by this model's base suffers a [2"] Push directly away from this model. A model can only be affected by this Character Play once per turn. Edit
Lob Barrel (2) || 6" Range || AOE  3" || OPT
All models hit suffer a [4"] Push directly away from the centre of the AOE and the knocked-down condition. Edit
CHARACTER TRAITS Edit
Tough Hide
Enemy Plays that cause damage to, or Playbook damage results that hit this model are reduced by [-1] DMG.
Edit
HEROIC PLAY Edit
Explosive Brew
When this model uses the Lob Barrel Character Play this turn, enemy models hit additionally suffer [2] DMG. Edit