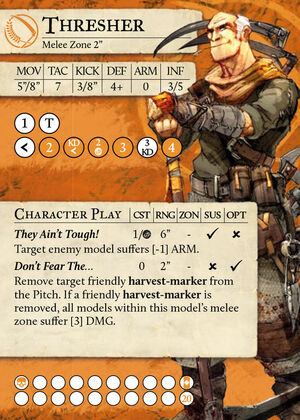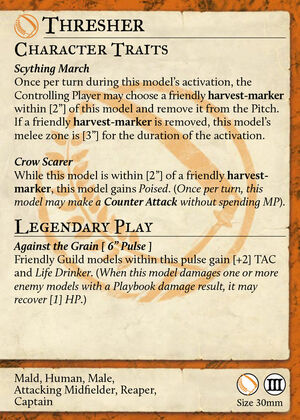 Thresher...
---
CHARACTER PLAYS Edit
They Ain't Tough! (1/1GB) || 6" Range || Sustaining
Target enemy model suffers [-1] ARM.
Edit
Don't Fear The ... (0) || 4" Range || OPT
Remove target friendly harvest-marker from the Pitch. If a friendly harvest-marker is removed, all models within this model's melee zone suffer [3] DMG. Edit
CHARACTER TRAITS Edit
Scything March
When this model inflicts the knocked-down condition on one or more enemy models, this model may immediately make a [1"] Dodge. Edit
Extended Reach
During its activation this model's melee zone is [3"].
Edit
Crow Scarer
While this model is within [4"] of a friendly harvest-marker, this model gains Poised. (Once per turn, this model may make a Counter Attack without spending MP). Edit
LEGENDARY PLAY Edit
Against the Grain [6" Pulse]
Friendly Guild models within this pulse gain [+2] TAC and Life Drinker. (When this model damages one or more enemy models with a Playbook damage result, it may recover [1] HP.) Edit
ARTICLES Edit
Available in Old Father's Harvest (Release Date: January 2018)
ALT SCULPT: Zombie Thresher available in The Dark Harvest box (Released 23.10.17)