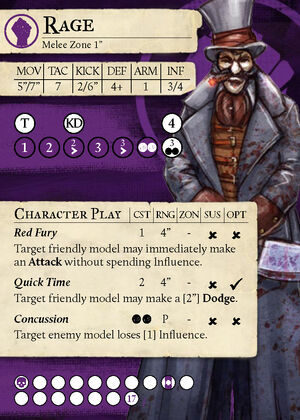 Surely one of the most notorious players ever to step foot on the pitch, Rage terrifies friend and foe alike. Even in the early days of his career, he earned a fearsome reputation as one of the most vicious and brutal men in Guild Ball, spitefully beating up anyone unfortunate enough to cross his path – but the day that Rage savagely murdered his own team captain on the pitch will forever go down in Guild Ball history, as one of the most horrifying events the sport ever has known.

LIMITED EDITION SCULPT: Available now for the first time as a limited edition sculpt, this version of Rage can be used to represent either Rage, or Veteran Rage out on the pitch. Bloody coin in hand, and still clutching Blackheart's sword, this is one of the most iconic models we've ever produced, so don't miss out!
---
CHARACTER PLAYS Edit
Red Fury (1) || 4" Range
Target friendly model may immediately make an attack without spending Influence.
Edit
Quick Time (2) || 4" Range || OPT
Target friendly model may make a [2"] Dodge. Edit
Concussion (2 GB) || P Range
Target enemy model loses [1] Influence.
Edit
CHARACTER TRAITS Edit
Furious
This model may Charge without spending Influence.
Edit
Usurper [The Union]
This model gains [+1] TAC when making an Attack against models of the named guild. Edit
Rising Anger
The first time this model is damaged by an enemy model each turn, the friendly team gains [2] MP.
Edit
HEROIC PLAY Edit
Bloody Coin
Target friendly Guild model within [4"] gains [+1] TAC and [+1] DMG to Playbook damage results when making an Attack against as enemy model that is engaged by one or more other friendly models. Edit
LEGENDARY PLAY Edit
My Gang [6" Aura]
While within this aura friendly models gain [+1] TAC and [+1] DMG to Playbook damage results when making an Attack against an enemy model that is engaged by one or more other friendly models. My Gang is not cumulative with Bloody Coin. Edit