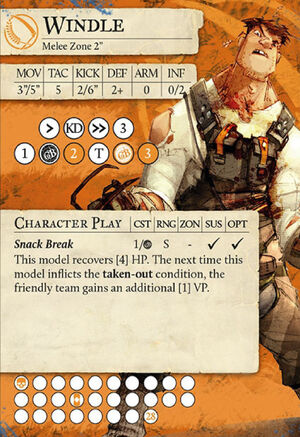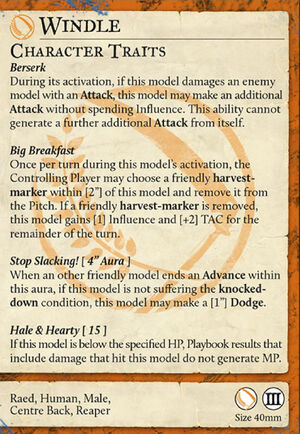 Windle...
---
CHARACTER PLAYS Edit
Snack Break (1 / 1GB) Self Range || Sustaining || OPT
This model recovers [4] HP. The next time this model inflicts the taken-out condition, the friendly team gains an additional [1] VP. Edit
CHARACTER TRAITS Edit
Berserk
During its activation, if this model damages an enemy model with an Attack, this model may make an additional Attack without spending Influence. This ability cannot generate a further additional Attack from itself. Edit
Big Breakfast
Once per turn during this model's activation, the Controlling Player may choose a friendly harvest-marker within [2"] of this model and remove it from the Pitch. If a friendly harvest-marker is removed, this model gains [1] Influence and [+2] TAC for the remainder of the turn. Edit
Stop Slacking! [4" Aura]
When an other friendly model ends an Advance within this aura,if this model is not suffering the knocked-down condition, this model may make a [1"] Dodge. Edit
Hale & Hearty [15]
If this model is below the specified HP, Playbook results that include damage that hit this model do not generate MP.
Edit